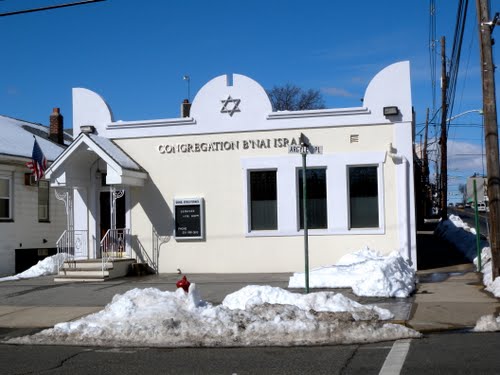 Welcome to Congregation B'nai Israel of Kearny and North Arlington. Conservative services in a friendly, "haimish" setting are held each Friday at 8:00 p.m., 292 Belleville Turnpike, Kearny, NJ 07032, at the corner of Argyle Place. If you would like additional information, please contact us at (201) 998-3813.
Do you have holiday or Shabbat plans? Please join our friendly welcoming services for 5776--last minute is okay:
Shabbat for Chol HaMoed Sukkot: Friday, 8:00 p.m., October 2, 2015 Yizkor for Shemini Atzeret: Monday, 11:00 a.m., October 5, 2015 Shabbat again: Friday, 8:00 p.m., October 9, 2015 Shabbat once more: Friday, 8:00 p.m., October 16, 2015
ADDITIONAL INFORMATION: Congregation B'nai Israel has served the local Jewish community since 1910.
---
LINKS TO OTHER PAGES: